Turtle Bay is one of Southampton's key venues for cocktails, and if you've ventured to the Caribbean inspired restaurant in Guildhall Square before, you may have experienced the competitive seat snagging in the bar area when happy hour hits. The cramped hustle and bustle in the drinks-only section of the cocktail hub is now a thing of the past, thanks to their new drinks table service!
I met the always lovely Southampton Bloggers (I was a tad late - thanks, bus) and I found that we were sat on a nice long table in the main restaurant area - plenty of room for our delicious flow of cocktails! Turtle Bay were super awesome and invited us to try this new experience and also a selection of food from their new menu! The service was great and the staff were friendly and made us delicious drinks, which I've ranked in order of my personal preference:
#4 - I Shot the Sherif Shooter
The newest addition to Turtle Bay's drinks menu are the shooters. They are the hybrid of the cocktail and the shot - each glass is like a condensed cocktail and is easier to drink/down than a straight spirit. Fabulous for weaklings like me. I like something strong but also something tasty, and this rum based shooter was nice, however I prefer more mixer. In other words, it was too small for my greedy face. They're definitely worth a try, you can order a selection of them with your mates with their multibuy offers.
#3 The Side Chick Martini
Turtle Bay's take on the Pornstar Martini. This tall, juicy friend was waiting for me on the table as I arrived (a much needed thirst quencher after stomping it from the bus stop). This very tasty and easy to drink (uh-oh) cocktail was refreshing and a delicious start to the night. The accompanying shot of prosecco always begs the question: does one sip or pour? According to my poll on my instagram story, 41% percent of you sip while the other 59% of you are my pouring brethren; it makes it nice and fizzy! Fab cocktail, a crowd pleaser.
#2 Pina Colada
Now, I don't usually like pina coladas (or getting caught in the rain, for that matter), but this vegan pina colada made with coconut milk instead of cream was really freaking delicious. It wasn't sickly sweet or thick, it was a pleasure to drink and you could taste the rum too (the downside of the martinis was that I couldn't taste the alcohol - 'tis a debate on whether that's a good thing or not I suppose, but I do enjoy a strong cocktail). I could've had plenty more of these, and you know what, when I return I shall do just that.
#1 Ting a Ling
This cocktail is the holy trinity to a millennial's dream cocktail: prosecco, gin and elderflower. Holy mother of cocktails, this was the tits. Really delicious, crisp flavours and yummy garnish (a pomegranate seed is always a treat), and I can't stop thinking about it. I urge you to try this one when you visit Turtle Bay.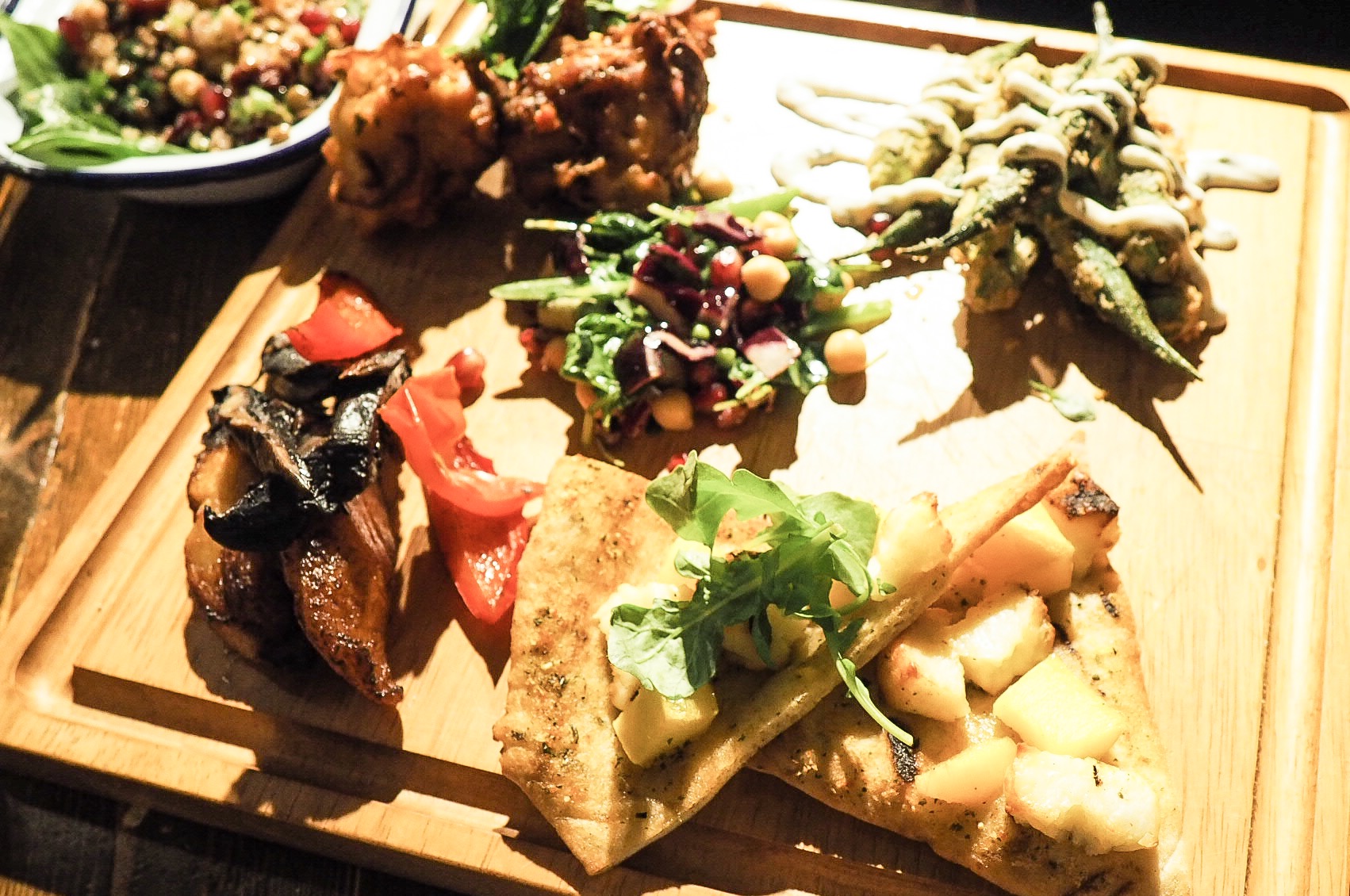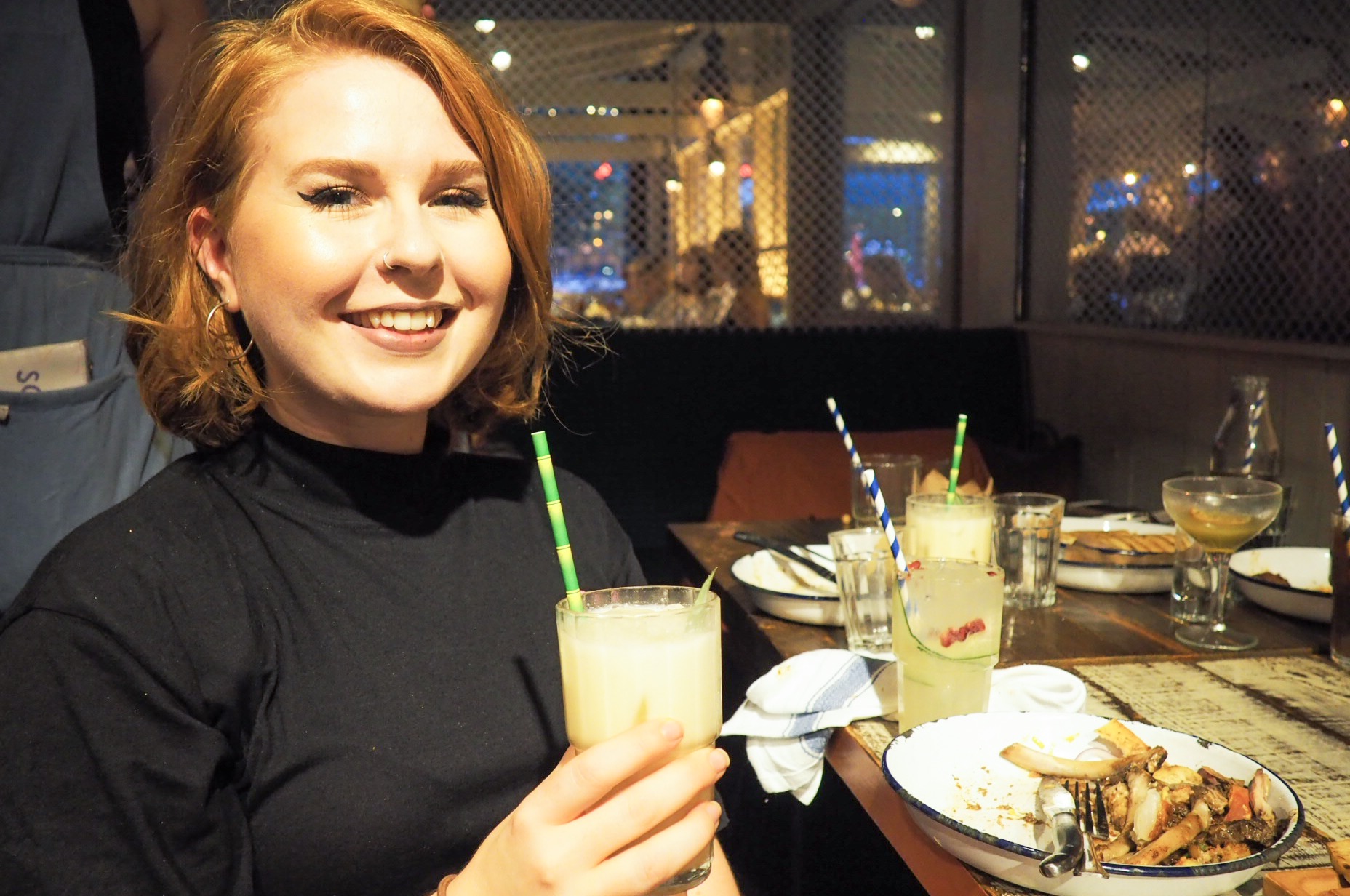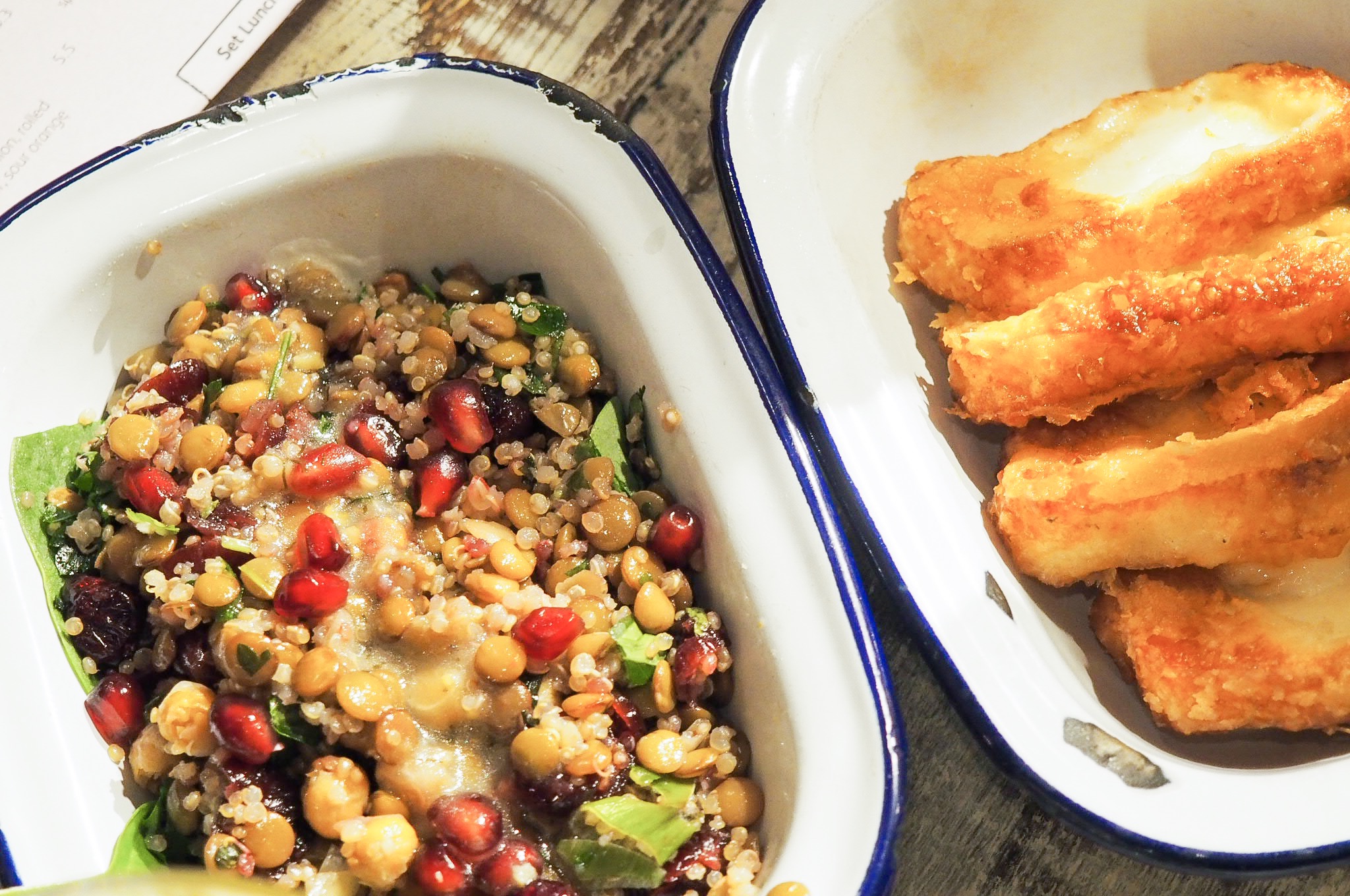 The Food!
The fab team provided us with ALL OF THE FOOD and plenty of it was vegetarian, which is always a pleasant surprise when you visit a jerk bbq style restaurant. The favourites amongst the table were the flatbreads and crispy halloumi. I hear the meat was great too, and I destroyed the vegetable platter which came with fried okra, jerk mushrooms, pineapple and halloumi flat bread and plantains. There was also a crispy deep fried plantain which was soooo tasty and interesting, it was like a KFC banana. I loved the new menu, full of small plates, platters, pots and curries. The curry fries were a hoot too.
So there we have it, I was very well fed and watered by the wonderful Turtle Bay, and enjoyed another a splendid evening with the ladies at Southampton Bloggers. My tummy was full, I was delightfully tipsy and I really enjoyed the experience of having the drinks brought over, as I got to enjoy the space we were in and engage in conversation without the busy bar atmosphere. If you ever feel stuck in choosing drinks from the their menu, ask the staff as they were really insightful of their flavours and happy to amends drinks to suit preferences and dietary needs.
Many thanks to Turtle Bay for the complimentary food and drinks, and Southampton Bloggers!